Vote for the best 50
M.Hingis site...

| | | |
| --- | --- | --- |
| | You are so beatiful that,I find my s slovery meainingful at present.I venture everything for her.I can look at her face without breathing for days.I can be reconciled even with my enemies and fill my spirit with bad feelingsfor her.Yes,people can call this as insanity.Perhaps I couldn't talk with her and look at her eyes although I love her so much.But I don't say I wont be able to reach at her.Because,she is so beatiful that my helplessness gains meaning.I haven't known what the sleeplessness is until I known her.I have never thought till the mornings by staring at the ceiling.I don't know how and why? But isn't her unreachableness that connect me to her so much? ýt is something like reaching at stars in the sky.If I find a chance to meet her,prehaps everything will finish and magic will spoil.But despite of everything, I cry out with the hope of being able to lighten the"dark happiens" that this unresponted love has given me:... | |
News:
Hingis Says She May Never Play Pro Tennis Again

ZURICH (Reuters) - Former world No. 1 Martina Hingis says she may never play professional tennis again.

The 22-year-old decided to take a break from the game in October because of a lingering foot injury and disappointing results since she returned to competitive action last August.

She was expected to participate in the Australian Open but raised doubts about her future in the sport when she withdrew from the event in December.

"It is totally possible that I won't play top tennis again, because my feet will not allow it," Hingis was quoted as saying in the Blick newspaper.

While the top players battle it out at the Australian Open, Hingis says she is happy to take it easy at home, improving her English, and her desire to compete again is waning by the day.

She said she enjoyed the lack of stress and competitive drive in her life and did not miss playing at the first grand slam of the season in Melbourne, which she won in 1997, 1998 and 1999.

"I'm having fun being able to watch the others, how they are running around in the heat on court. When I wake up I always look for the results on teletext. I'm also following the tournament in the papers and watch it on TV every now and then," she said

"I'm not bored. I've spent the last two months doing lots of sport -- skiing, riding, long walks in the wood with my dog.

"And I'm now going to school -- I'm trying to perfect my English. And also finally I now have more time for my private life."

Hingis, who dominated the women's game in the late 1990s, had surgery on her ankle last May when two ligaments were replaced and never recovered her best form.

Her tactical game has also been rendered obsolete by the powerful Williams sisters.

"Health-wise I cannot complain and my foot, feet are OK if I don't force it when I'm playing tennis.

"But as soon as I try to train competitively, the pain starts."

No longer world No. 1 -- that is Serena Williams -- Hingis is now No. 2 in Switzerland behind Patty Schnyder.

"It was never my goal to be number one in Switzerland, I wanted to be world number one. And I was for four years.
"I have survived no longer being world number one and I will survive being Swiss number one no longer. And I just don't want to think about a comeback."
---
2000-2002 / Created by Montana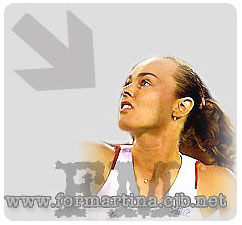 | | | |
| --- | --- | --- |
| No | NAME | P |
| 1 | Serena Williams | 5742 |
| 2 | Venus Williams | 4917 |
| 3 | Jennifer Capriati | 3947 |
| 4 | Monica Seles | 3906 |
| 5 | Kim Clijsters | 3168 |
| 6 | Jelena Dokic | 3076 |
| 7 | Justine Henin | 3005 |
| 8 | Martina Hingis | 2814 |
| 9 | Lindsay Davenport | 2637 |
| 10 | Amelie Mouresmo | 2285 |